Details
Well done to our latest 6 Scouts who managed after a lot of hard work to achieve their Chief Scout gold award. After 4 years of work they managed to get the highest award you can earn as a Scout. This taught them many useful skills to take with them as they move on from Scouting.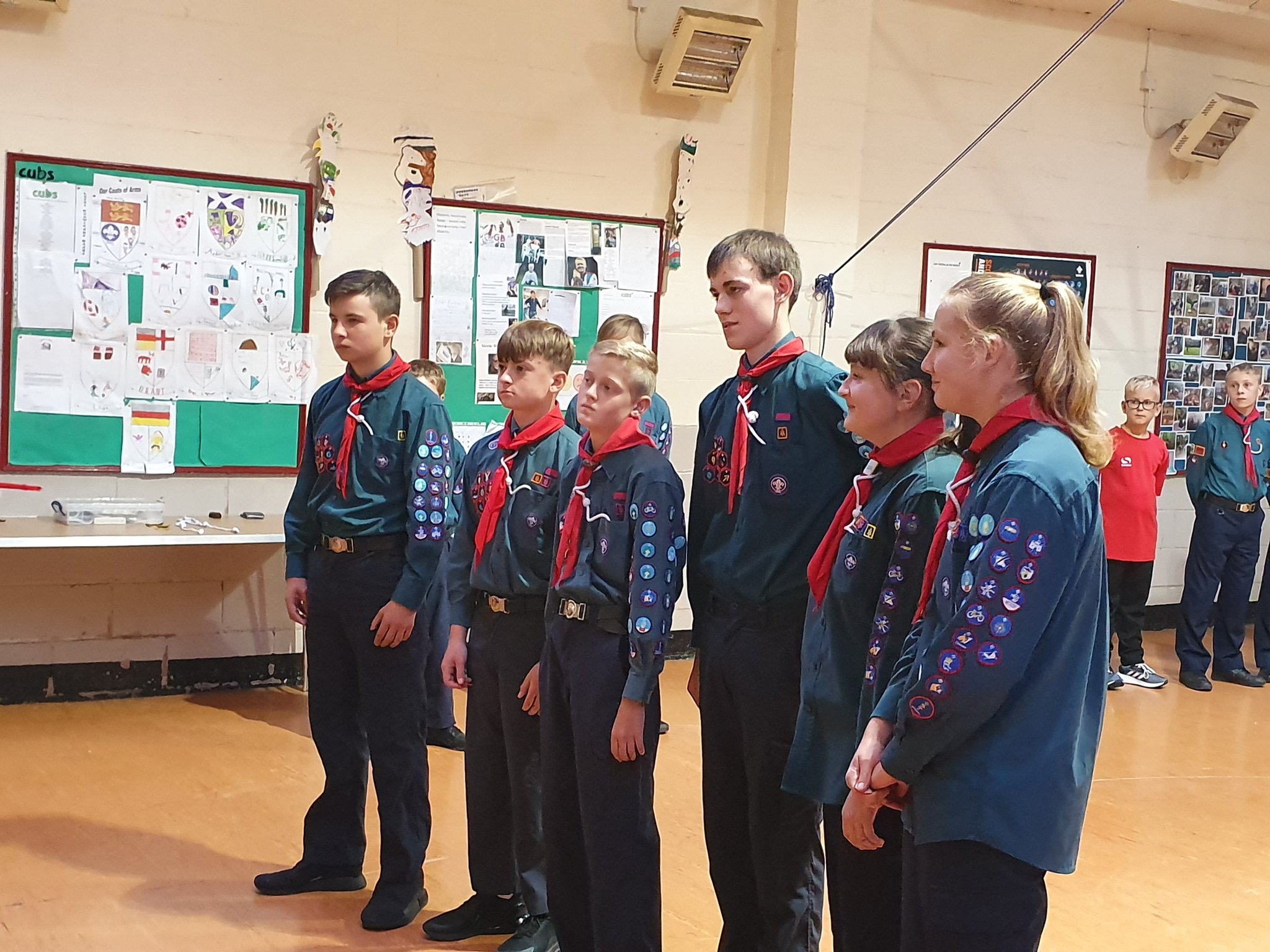 A big congratulations to our latest two Scouts who have completed their Chief Scout Gold Award. This is the highest award a Scout can earn. The badge requires a lot of work and takes the Scouts most of their time in Scouting to achieve. They need to complete nine challenge badges which test their leadership, perseverance, creative and planning skills. They need to ruin their own camp and complete a two-day expedition, and so is difficult to get. After completing it they attend an award ceremony and have their badge presented by a district representative.
Details
Remembrance 2016
East Goscote Scout Group turned out in very good numbers for today's (Sunday 13th November 2016) Remembrance Parade from the factories to the church.
All our young people looked smart in their uniforms, which they were all very proud to wear.
Some of our young peoples' parents got involved in marshalling to ensure that the roads were safe for us to march on and to help the parade run smoothly. We were also helped out by some ex leaders back from university.
Some of the Scouts, Beavers and Cubs were involved in the service itself; either carrying flags, laying a wreath or performing a reading. One scout who deserves s special mention is Peter Nathan who performed the Last Post during the service to signify the start of the two minute silence. 
A Big Thanks to all our young people from across the sections.
Oliver Harris - Assistant Scout Leader.
Details
Chief Scout Award
On Monday 7 November four more scouts from East Goscote were presented with their Chief Scout Gold Award. This is the highest award possible in Scouts and is only achieved by those scouts who put in considerable time and effort both in and out of scouting.
To achieve this award scouts must complete nine challenge badges which include organising and taking part in patrol camps, undertaking a 48 hour expedition carrying all their camping kit, completing three months of service in their local community, taking part in an international camp including meeting and swapping customs with scouts from other countries and completing several personal challenges. These challenges, along with the participation badges that must also be completed teach teamwork, leadership, an understanding of different customs and most importantly a belief that anything is achievable if you put your mind to it.
Well done Owen, Josh, Joe and Hannah – this is a moment to be proud of and we wish you well for the future.
Phil – Scout Leader
Details
Summer Promotions for Charnwood
This week (4th July 2016) several of our scouts were promoted ahead of Charnwood camp this summer.
Promoted to Senior Patrol Leader 
Hannah Disney, Joe Disney, Josh Gee and Owen Town-smith
Promoted to Patrol Leaders
Archie Bailey, Mollie Lewis , Ryan Walton and Matty Simmonds
Promoted to Assistant Patrol Leaders
Peter Atkins, Chloe Biddles, Megan Green and Thomas Kirtan
Details
Charnwood District Raft Race 2016
On Saturday 2nd July a group of six scouts (Amiee, Megan, Archie, Mia, Aarran  and Thomas) from our group along with leaders Ollie Harris and Phil Bott took part in the Charnwood District Raft Race at King Lears Lake, Watermead Country Park in Syston.
They had just over an hour to build a raft using pioneering poles, rope and barrels that they would then use to compete in a raft race against other scouts from across the district.
After a few starting hiccups with barrels becoming loose as soon as they got in the water, our brave scouts won their first race with ease against 1st Wolds Scout Group's 3rd team, which saw them make it to the semi-finals against two other teams.
The scouts managed to finish in 2nd place in the semi final with other the first place teams making through to the final which was won by Mountsorrel's 2nd team.
We are all very proud of their effort in getting to 2nd in the Semi-final, this is the first District event the scout group has taken part in, in a long while and there will be more to come in the future.